COS ANNOUNCES COLLABORATION WITH BIO-DESIGNERS ECOLOGICSTUDIO DURING SALONE DEL MOBILE 2020
London,2020
London-based fashion brand COS will return to this year's edition of Milan Design Week, to present a large-scale collaboration with architecture and urban design practice ecoLogicStudio, marking the brand's ninth consecutive installation during Salone del Mobile.
COS and ecoLogicStudio's upcoming installation seeks to augment the interaction between the natural world and the built environment, presenting an interactive structure that bridges design and science. The immersive experience is brought to life through innovation which incorporates a diverse group of photosynthetic organisms; algae.
The work will explore the concept of circularity with new ways of incorporating biotechnology into the urban realm through the prism of design. While highly innovative, the installation draws inspiration from the rich history of the Palazzo which will host it and from Leonardo da Vinci's 16th Century studies on water turbulence which lead to the conception of Milan's canals' system. The installation itself will remove carbon from the atmosphere, as a result of the photosynthetic process it enables, and will provide the context to investigate the multiple uses and benefits of micro-algae within the Palazzo's walled garden.
"Sustainability and material innovation have always been at the core of COS." said Karin Gustafsson, Creative Director of COS. "For Salone del Mobile this year our hope was to explore nature's innovations and how these can be harnessed to offer new ways to live our day-to-day lives while reducing our impact on the environment and our planet. ecoLogicStudio's important work displays not only how science and biology can inform and refine our processes, but also be viewed as part of the aesthetic. We are thrilled to be able collaborate on bringing their work to Milan on a grand scale."
Claudia Pasquero and Marco Poletto of ecoLogicStudio note "We're delighted to be collaborating with COS to create an installation that represents an important and timely new step for us. We have been working for several years with the regenerative capability of many of our planet's organisms to design circular processes converting what our cities expel into sustainable raw materials and nutrients.
With this project we have the unique opportunity to bring micro-algae's photosynthetic force to the city centre of Milano, and the chance to address the relationship between art and science in the public realm, a fascination that we share with COS and that forms the basis our collaboration''.
The installation will be open to the public from the 21st to 25th of April, 2020 at Palazzo Isimbardi, Corso Monforte 35, 20122 Milan.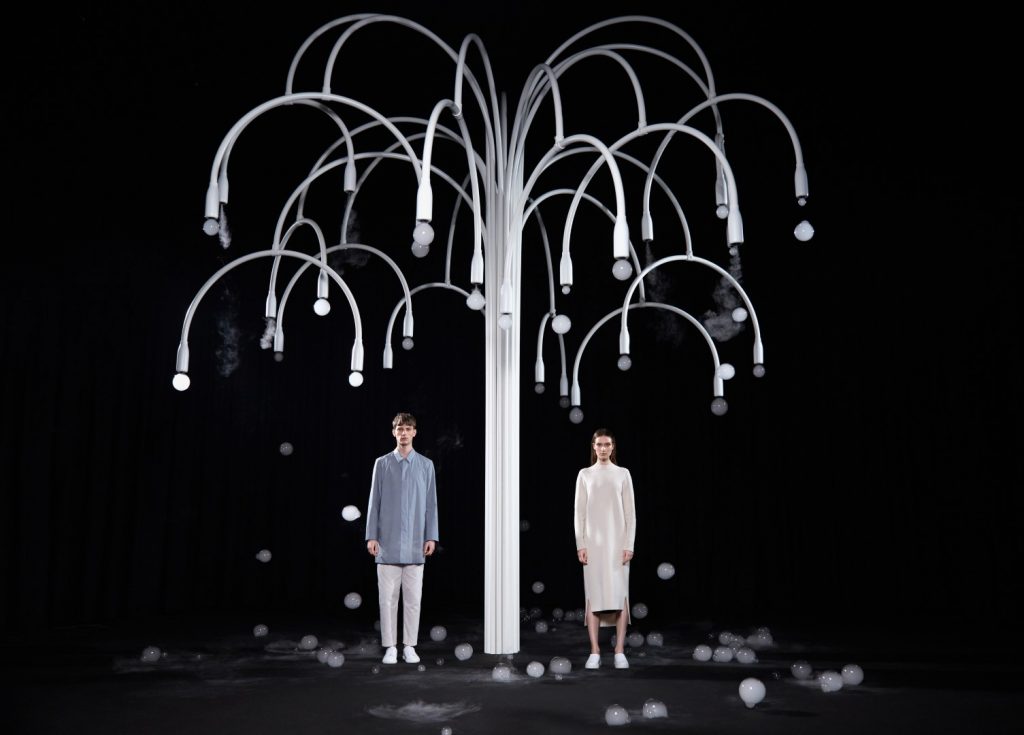 ABOUT COS
Since 2007, London-based COS has remained true to its philosophy; to offer high-quality fashion collections comprised of wardrobe staples as well as reinvented classics, in keeping with the brand ethos of modern, timeless, functional and tactile design. Inspired by the arts, COS uses traditional methods and new techniques to form understated collections made to last. Committed to both timeless design and innovation, COS collaborates with established and emerging artists, galleries and creative studios. COS has enjoyed working on projects at the Serpentine Galleries, Salone del Mobile, The Guggenheim New York, The Donald Judd Foundation, Frieze London, The Dia Art Foundation, Design Miami/, with partners such as Opening Ceremony and Mr Porter and with artists including Snarkitecture, Sou Fujimoto, Studio Swine, Wayne McGregor and AFSO / ANDRÉ FU.
ABOUT COS x SALONE DEL MOBILE
Since 2012, COS has presented unique and innovative collaborations with artists, designers, and architects in Milan during Salone del Mobile. Past collaborators include Gary Card, Bonsoir Paris, Nendo, Snarkitecture, Sou Fujimoto, Phillip K. Smith III and Arthur Mamou-Mani, in addition to Studio Swine, whose COS installation New Spring, won the Milano Design Award for Most Engaging Exhibition during Milan Design Week 2017 and has since been exhibited during Design Miami/ and at The Bell Tower in Chang Ning, Shanghai in 2019.
ABOUT ECOLOGICSTUDIO
ecoLogicStudio is an architectural and urban design studio pioneering the integration of living systems in the built environment. Co-founded in London in 2005 by Claudia Pasquero and Marco Poletto, the studio has built an international reputation for its innovative projects ranging from the small-scale artistic installations, to architectural pavilions and to large scale eco-masterplans.
The work of ecoLogicStudio has featured at the most important Architectural Biennales, including Venice (2008, 2010, 2016, 2020), World Expos (Milano and Astana) and international art museums such as the Centre Pompidou in Paris 2019 and the Mori Art Museum in Tokyo, 2019.
In 2014 the Metropolis Magazine in New York nominated ecoLogicStudio among the 10 most interesting global emergent practices. Claudia Pasquero has been recently included in the top 10 of Wired Smart List, selecting global innovation rising stars.
ecoLogicStudio mantains close links with internationally renowned Academic and Research Institutions and is currently part of the Photosynthetica venture in partnership with the Urban Morphogenesis Research Lab at UCL London, and the Landscape Architecture / Synthetic Landscapes Lab at the University of Innsbruck.
Images courtesy of COS
Link to COS x Salone del Mobile Project page: cosstores.com/salone
#COSxecoLogicStudio cosstores.com/Salone @cosstores