FREEDOM OF STYLE IS H&M STUDIO'S S/S20 MANTRA
Curious, colourful, courageous: H&M Studio's S/S20 collection is made for a modern free spirit whose style is as eclectic as her travels. Inspired by the lunar landscape and laid-back surf culture of the Swedish island of Gotland, a carefree vibe and electric colour palette of hot pink and cobalt blue with considered flashes of acid green dominates. Pair your chunky knits with sporty swimsuits, voluminous wear-anywhere dresses with platforms, and raw-edged tailoring with futuristic Lurex layers. The H&M Studio S/S20 collection will be sold in selected stores as well as on TH.HM.COM from February 20.
"The S/S20 collection muse is a forward-looking free spirit – someone who surfs, climbs, explores and who wants to experience new things. The collection is both raw and refined: natural fabrics with raw edges are mixed with refined elements, such as shiny metallics and futuristic accessories. There's a freedom in the way the collection can be worn, too: we want our customers to feel that anything goes," says Ann-Sofie Johansson, Creative Advisor at H&M.
KEY PIECES
Tactile layers and psychedelic colour hits create a new insouciant mood. Key pieces include an airy electric pink floor-sweeping dress; a limestone-hued, strong-shouldered cropped jacket with raw-edged hems and matching wide-legged trousers; a striped pair of crisp, cream cotton jeans; a thick-weave crochet cardigan in pink, cream and beige stripes; and chunky cream platform ankle boots.
FABRICS
Natural viscose/linen mixes give tailoring a louche ease; twill-jersey blends lend leggings and tailoring an athletic edge; organic cotton offers a selection of blouses and denim pieces a carefree, capacious quality; and recycled polyester adds a weightlessness to several oversized dresses.
"A research trip to the Swedish island of Gotland, where the landscape resembles the lunar surface, gave us ideas for textures and colour palettes. The hand-worked prints were inspired by the island's rock formations, known as rauks, which have been weathered into sculptural shapes. I wanted to make the prints feel psychedelic, so we introduced an electric colour palette," says Moa Bartling, H&M's Print Designer.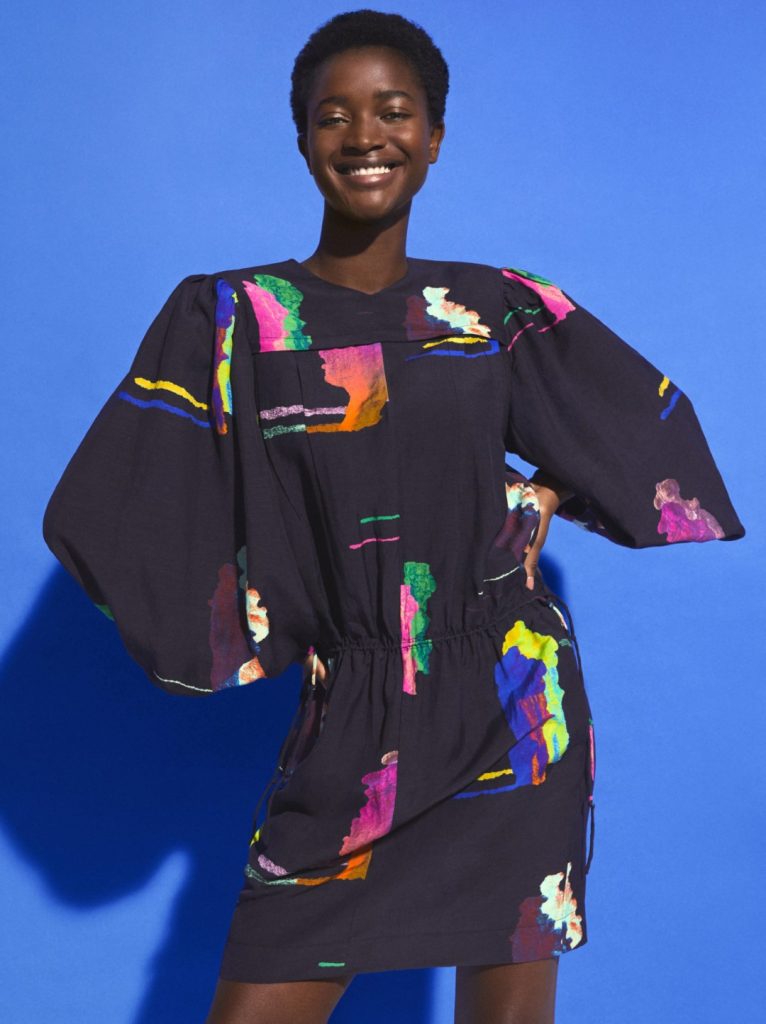 ACCESSORIES
Statement-making platform boots meet elegant heeled thong-strap sandals, futuristic sunglasses and mirrored full moon-shaped earrings in an accessories collection that introduces a punk edge to the collection's airy volumes. Also key is the pale lavender-hued bag, a grab-and-go essential in a casual scrunchy shape.
"Photographing the collection in natural sunlight and in a secluded beach location was a beautiful reminder of how humans are connected to Mother Nature. The wind and the waves had such a palpable energy that squared with the freedom of the surf aesthetic. The collection is fun and sporty, so I wanted to mix a flirtatious aesthetic with a boyish vibe to show off the versatility of the clothes," says Ludivine Poiblanc, stylist.
About H&M Studio
H&M Studio is H&M's most fashion-forward offering. Developed by an in-house design team at the brand's Stockholm atelier, the limited-edition collections are unveiled biannually, in line with traditional international fashion schedules.
#HMStudio