Joy Land: Kitti Narod Solo Exhibition
Curator: Guo Weiwei
Duration: 2020. 8. 13 – 9. 20
Venue: Tang Contemporary Art Bangkok
Tang Contemporary Art is proud to announce the opening of "Joy Land," a solo exhibition for Thai artist, Kitti Narod, in the Bangkok space on August 13th. A graduate of Poh Chang Academy of Arts at the Rajamangala University of Technology, Kitti currently lives and works in Pathum Thani.
Like many Southeast Asian artists, Kitti's work permeates with the essence of the vibrant natural world and tropical elements. He simplifies the background into completely flat blocks of pure color, laying the emotional foundation for the entire painting. By using pure colors and the flat paint application – the most frank and direct methods for depicting the forms and colors of the subjects – the artist places people, plants, animals, and everyday objects into an image one-by-one. Through the colorfully painted dense emerald leaves, crimson chairs, and brightly-colored clothing, we can see the artist's love from Matisse and South American art. In his composition and use of shapes, Kitti searches for harmony among simple forms. All of these elements together meld to create light, joyful scenes.
As a member of the LGBTQ community, Kitti also reveals this part of his identity in the content of his works. He and his partner, Gwyn Faemol, have been together for fifteen years, and Gwyn often appears in Kitti's work. They have several cats, they drink coffee, jump rope, and spend their daily lives with one another. Equality is a recurring theme that Kitti explores in his work. The LGBTQ community is a minority, but not a disadvantaged group; they seek equal rights, rather than special treatment or privileges. Relatively speaking, Thailand seems more open to these communities, but in other parts of the world, there are still many people who have intense prejudice toward them. Kitti's works project his ideal vision of society – creating a Utopia in which "everyone has equal opportunities." His paintings are a "joy land," and he reminds us that we can do better and create a better society together.
Space, in both the physical and mental sense, is another important concept illustrated in the artist's works, especially in this set of exhibited works, created during the pandemic of 2020. In "Men Who Dance" and "Diver," the elongated limbs of the figures extend freely, and the individuals overlap and intertwine to form a united group. These depictions are presented in a light and joyful way rather than giving the feeling of crowdedness or suffocation. The composition of their slim bodies creates a harmonious balance of music and rhythm. While there are complexities in the space represented, there is also lightness and airiness. Kitti created "Bare" during the peak of the pandemic in Thailand. All of the vulnerable individuals hunch over their shoulders, embracing themselves. In the face of a crisis like COVID-19, social distancing becomes necessary and self-protective, and relationships and interactions between people have inevitably changed. "This situation has destroyed existing systems or concepts—how we communicate, where we can go, and how public spaces are used."
Due to his love for cats, Kitti's work often features these creatures. In "Cat Lover," the close, interdependent relationship between humans and cats is expressed in a warm, moving manner. In urban life, changes in people's lifestyles and circumstances have increased the number of pets, and the relationship to cats is a model for emotional fluidity. As happiness in life increases, love and respect become the core of everything.
Kitti excels at treating the questions he is considering in an understated, lighthearted way, presenting them in a familiar and relatable manner in his works. He invites us to empathize with him and explore the Self and the world together as he builds his own "joy land."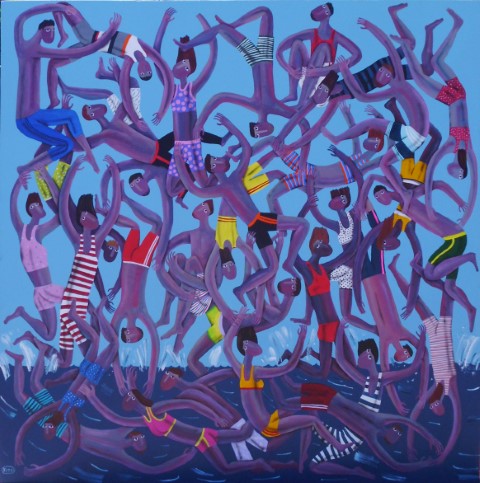 Artist
b. 1976, Thailand. Kitti Narod trained at Wittayalai Pohchang Art College, Bangkok, from 1996 – 1998, and later obtained his Bachelor of Arts degree from the Rajamonkong Institute of Technology in 2000. He has exhibited extensively both domestically and internationally, including in Singapore, London, Bath, Edinburgh, Manchester, Dublin, Cork, Montreal, and Melbourne.
Kitti Narod creates paintings that convey a sense of joy and optimism through the gentle and warm portrayal of daily life and human connectedness. In his paintings, everyone and everything exist together in a utopia. This notion may seem unrealistic to some, especially during an era of social division, but the artist's work tries to remind us to appreciate the simple pleasures and to pay attention to the mundane or basic details of daily life. Perhaps then, euphoric feelings will not seem so unattainable. The artist considers his works to be a meeting place for diversity, where all the physical and spiritual are equal.
Tang Contemporary Art
Tang Contemporary Art was established in 1997 in Bangkok, later establishing galleries in Beijing and Hong Kong. Tang Contemporary Art is fully committed to producing critical projects and exhibitions to promote Contemporary Chinese art regionally and worldwide, and encourage a dynamic exchange between Chinese artists and those abroad.
Acting as one of the most progressive and critically driven exhibition spaces in China, the gallery strives to initiate dialogue between artists, curators, collectors and institutions working both locally and internationally. A roster of groundbreaking exhibitions has earned Tang Contemporary Art internationally renowned recognition, establishing its status as a pioneer of the contemporary art scene in Asia.
Tang Contemporary Art represents leading figures in Chinese art including Ai Weiwei, Huang Yongping, Shen Yuan, Wang Du, Liu Xiaodong, Yang Jiechang, Xia Xiaowan, Sun Yuan & Peng Yu, Yan Lei, Wang Yin, Wang Yuping, Yangjiang Group, Guo Wei, Zheng Guogu, Lin Yilin, He An, Zhao Zhao, Wang Yuyang, Weng Fen, Yang Yong, Xu Qu, Xu Xiaoguo, Ji Zhou, Cai Lei, Ling Jian, Liu Yujia, Zhu Jinshi, Qin Qi, Chen Yujun, Chen Yufan and Chen Wenbo, and collaborating with international artists such as H.H.Lim, Rirkrit Tiravanija, Sakarin Krue-On, Michelangelo Pistoletto, Adel Abdessemed, Dinh Q.Le, Michael Zelehoski, Jennifer Wen Ma, Rodel Tapaya, Natee Utarit and Heri Dono.
Location: Room. 201 – 206, River City Bangkok, 23 Soi Charoenkrung 24, Talad Noi, Sampantawong, Bangkok,10100, Thailand Email: bkk@tanggallery.vip Tel: +662 000 1541
Website: www.tangcontemporary.com Facebook: @tangcontemporaryartbangkok
Instagram: @tangcontemporaryart LINE: @tangbkk
Editorial Staff : pr.fyibangkok@gmail.com mobile : 096 449 9516
Editor | Kullaya Kassakul is a seasoned public relations professional with over 20-year experience, a true cat slave, an aficionado of vintage items of all kinds, a foodie and the owner of the brand g.a.s (gear ⋅acquisition ⋅syndrome), a clothing line that wants women to have fun dressing up and having their own style.

She's also a co-founder of Thailand Closet, located on the first floor of the Bangkok Art and Culture Center.

Oftentimes, she speaks on public relations and marketing communications at educational institutions and other organizations.

Apart from work, she likes to widen her perspective and update herself on trends so that she'll have fresh new ideas for her work.
Latest posts by Kullaya Kassakul
(see all)