MUJI celebrated new landmark store in The EmQuartier New simplicity and nature vibe to fulfill every urban lifestyle
Denizens of Sukhumvit Road can now enjoy the minimalist lifestyle, after MUJI, a leading international lifestyle brand from Japan, has opened its latest store, MUJI The EmQuartier, under the "simple and natural" concept. The new store hopes to deliver a new experience of MUJI at this hub for business and urban lifestyles. It offers a wide range of MUJI's signature products in a space of 1,500 square metres taking up almost the entire second floor of The EmQuartier, an ideal location to shop, eat, sip coffee, chill or meet up with people. The store is officially opened on Thursday, 29 September 2022, at The EmQuartier Level 2, Building B.
Mr. Akihiro Kamogari, Managing Director of MUJI Retail (Thailand) Co., Ltd., said that MUJI The EmQuartier is the latest MUJI concept store in the centre of the Sukhumvit district. Built on 1,500 square metres covering almost all of The EmQuartier's Level 2 in Building B, MUJI The EmQuartier will be a new experience of MUJI-style simplicity for every modern lifestyle age and gender, including office workers, students, housewives, the elderly, foreign tourists or long-term foreign residents. It will be another landmark for people to enjoy any lifestyle, meeting a diverse variety of needs. The brand's simplicity is available to everyone, through the wide range of MUJI's lifestyle products, such as household utensils, clothing, food and beverages, etc. There are also MUJI's signature familiar specialist zones in the store.
The design of MUJI The EmQuartier is inspired by the "Simplicity and Nature" concept and has been decorated to create an atmosphere of welcoming warmth and comfort in a minimal setting with colour tones and product displays in the MUJI style. This is however combined with local identity under the MUJI Localize concept, using vintage pieces of timber sourced from every region of Thailand.
MUJI The EmQuartier also includes different zones which are MUJI's signature: MUJI Coffee Corner, now expanded to service more customers, who can hang out, meet up with friends or just sit and work like regular city people. Light Meal & Bakery now offers a wide range of Japanese-style food and desserts with new and quirky tastes for all the Japanophiles. New Bento and noodle dishes start at just 99 baht and include Inari Bento, Hiyashi Chuka cold noodles, Maki rolls and Yakiniku rice. New menus of Japanese-style bread and desserts start at just 39 baht with a lineup of Rusk, Chocolate Rusk, White Chocolate Rusk, as well as Fuwa Fuwa Vanilla, Strawberry and Green tea flavours. There is Gyuhi in Green tea or Kinako flavours, or Belgium waffles in Chocolate, Green tea or Red bean flavours. New cake menus start at just 89 baht and include Dark chocolate cake, Very berry cake, Black Forest roll, and Matcha Red bean roll. Ice cream also has new flavours in new-look packaging for only 49 baht: Chocolate brownie, Blueberry cheesecake, Wild Berry, Coffee and Rum raisin, only available at MUJI The EmQuartier.
Next up is the Apparel Zone, bringing together MUJI's popular Men's wear and Women's wear styles, highlighted by the new collection with a special design to fit with weather and wearing lifestyle in the region and Thailand, including Ladies' wear & Men's wear, Homeware, MUJI Walker –ladies' and men's workout wear. In addition, there is also MUJI Labo zone –a unisex wear collection at affordable prices.  For the first time, MUJI's Winter Collection 2022 will be launched in the store. Household utensils and furniture zone has many items of home décor, kitchen utensils, cleaning products, boxes and many other items for the homework lovers. There are also home cleaning accessories that are available only in Thailand and this region only, as well as stationery for students. Interior Consultation Service Zone gives advice on home decoration with MUJI furniture and accessories. MUJI Green is a zone of potted plants and decoration plant trees which MUJI has specially selected to liven up home interiors, and Normal Shop –organic products for daily life such as soap, shampoo, and cleaning solutions, etc. to encourage Green Living.
Finally, the chic corner of the MUJI Yourself zone is for people to make personalized designs on papers with a special range of self-inking stamps, and Embroidery zone, likewise giving the possibility of embroidering MUJI products such as clothing, hats, bags, socks or sneakers with letters, patterns or cute cartoons. As a special offer, to celebrate the official launch of MUJI The EmQuartier, don't miss MUJI Cotton My Bag in a limited edition of four styles for tourists and collectors, featuring patterns of a tuktuk, a palm-leaf fish, a Thai giant or an elephant, for only 99 baht. MUJI Jute Bag for the environment is an A3-sized bag with MUJI logo for only 99 baht, the limited edition available only at MUJI The EmQuartier. There is also an exclusive promotion for a free MUJI Cotton My Bag in five patterns designed by Teacher Toh and the artists of his school. This goes to the first 100 customers in every day purchasing any product at MUJI The EmQuartier with no threshold minimum spending, from 29 September to 2 October 2022.
Social media mavens can join exclusive privileges from just giving likes at Facebook: MUJI Thailand and sharing any posts celebrating the grand opening of MUJI The EmQuartier, or posting check-in at MUJI The EmQuartier to get  one free MUJI notebook for the first 100 participating customers per day from 29 September to 9 October 2022. New customers who add MUJI Thailand as a LINE Friend, get an E-Cash Coupon for a 100-baht discount, for a minimum spending of 1,000 baht at MUJI The EmQuartier from 29 September and 30 October 2022. (The discount coupon will be expired on November 15, 2022.)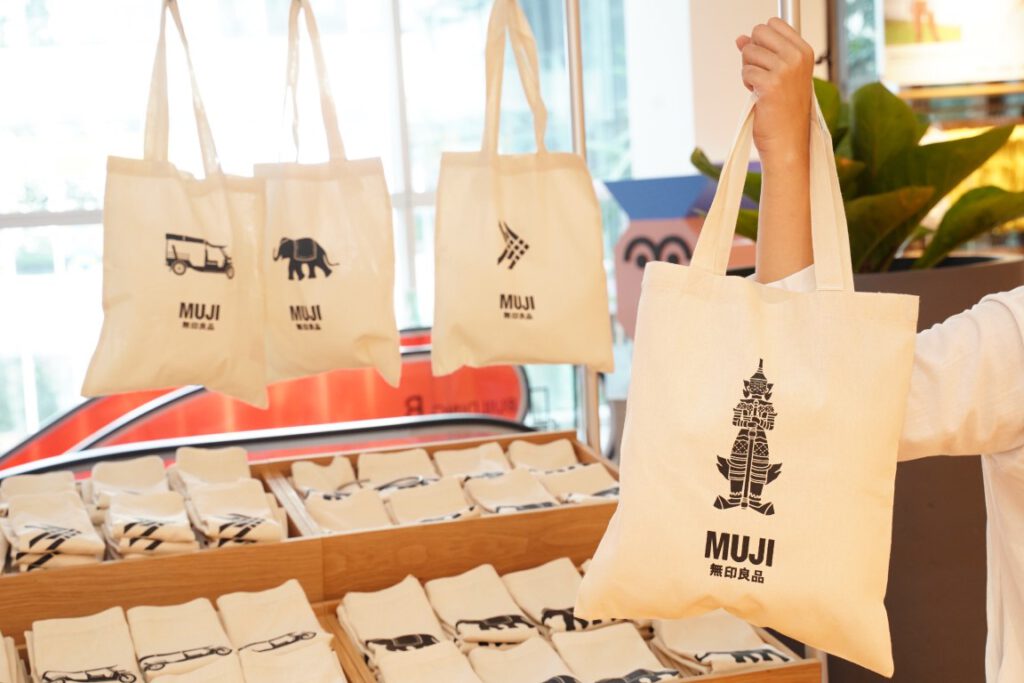 Experience MUJI's simplicity and naturalness for yourself in a new form at the urban lifestyle hub of Sukhumvit Road. MUJI The EmQuartier on Level 2 of Building B, The EmQuartier, is open from 10.00 to 22.00 from today onwards.
Follow further information at Facebook: MUJI Thailand and Instagram: MUJI_Thailand
กดติดตามเราได้ที่
website : www.fyibangkok.com
facebook : https://bit.ly/2LubSvt
instagram : https://bit.ly/3njGxJd
twitter : https://bit.ly/2KYAnBr
youtube : https://bit.ly/35dVFlp
ส่งข่าวประชาสัมพันธ์ถึงกองบรรณาธิการ : pr.fyibangkok@gmail.com 
โทรศัพท์ 096 449 9516
Editor | Kullaya Kassakul is a seasoned public relations professional with over 20-year experience, a true cat slave, an aficionado of vintage items of all kinds, a foodie and the owner of the brand g.a.s (gear ⋅acquisition ⋅syndrome), a clothing line that wants women to have fun dressing up and having their own style.

She's also a co-founder of Thailand Closet, located on the first floor of the Bangkok Art and Culture Center.

Oftentimes, she speaks on public relations and marketing communications at educational institutions and other organizations.

Apart from work, she likes to widen her perspective and update herself on trends so that she'll have fresh new ideas for her work.
Latest posts by Kullaya Kassakul
(see all)