Rabin Huissen : Searching for inspirations in foreign cultures
First Draft        Sunday, July 14 ,2019  5.59 p.m. Bangkok  Thailand
Final                  Sunday, July 21, 2019, 10.07 a.m. Bangkok  Thailand
On June 28, 2019, the last Friday (color = blue) of the month, an art exhibition titled "Fragments" by Rabin Huissen was hosted for only a day at the Rebel Art Space. It wasn't the artist's plan to have such a fleeting show. His intention was to experiment and do small research during his residency at Rebel. So, what can you make in only 30 days? He  researched and slowly occupied his temporary surroundings: the rooftop, the garden, the swimming pool, the garage and the street in front of the art space. They all became part of his artworks. Halfway through his residency, he decided to exhibit what he made in and around the Rebel Art Space.
"I think you can feel this in my final works; they say something about Rebel," Huissen said. "That's why they had to be shown there for the first time. It felt important to me that the work was shown in the surroundings where they were born and made, even if it was only for one day." Because of the preparations he had to do for his upcoming solo exhibition in Rotterdam this October, Huissen had to pack up all his works, exactly 94 pieces of them created during his one-month residency, and fly back to the Netherlands, his homeland, as soon as the day was over.
Previously, fyi had an opportunity to talk with Huissen about his artist residency program. This is something people in the art community are familiar with, but maybe not so among the general public. Huissen explained that a residency program was basically an artist being invited by an art studio or an art education institution to come and spend time at that place and create artworks. During that time the artist draws inspiration from the new
environment and culture, combining it with his or her artistic concepts and identity. It's similar to how artists in the olden days would travel to seek new inspirations, learn about the way of life of other people and then create a new body of work that broke away from what they had done before. Each residency program is different in terms of time and resources available. It can last for a few weeks or many months. Sometimes artists have to pay for their own accommodation, like staying at a homestay, or sometimes this cost is covered by the inviting institution, perhaps in exchange for some of the works created during the residency. Also, there may be funding for an exhibition or a talk.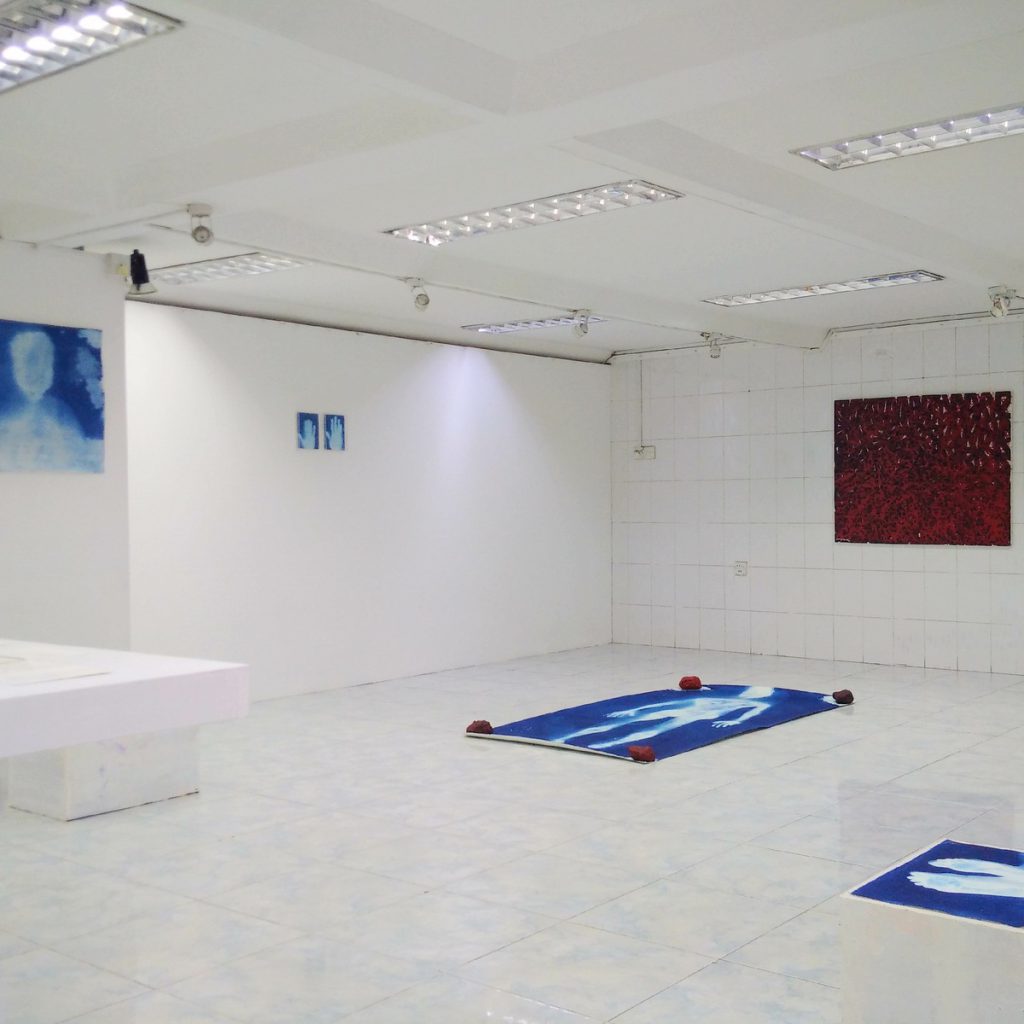 "My working space has become much larger working under this condition," said Huissen regarding residency programs. "Five years ago before I began to travel, I used to work in my tiny studio in Rotterdam. Once I've stepped out of it, even though the studio of a residency program isn't big, I've entered a new world of ideas. Now I think I can work anywhere in the world. I don't have to be limited by the space of a studio. And I've also gained lots of experience."
Huissen defines himself as a conceptual artist who uses different mediums to create art. Following an invitation by Vasan Sitthiket, an artist and the owner of the Rebel Art Space Residency, he had a one-month residency in Bangkok, which wasn't the first time this 40-something-year-old came to Thailand. Last year, he was invited by the Rajamangala University of Technology Thanyaburi for an 8-month residency at the Faculty of Fine and Applied Arts, during which time he taught conceptual art to the university's students while creating his works for "Sou•ve•nir – A thing that is kept as a reminder of a person, place, or event," a group show with other Thai and Dutch artists at the People's Gallery, located at the Bangkok Art and Culture Center. And five or six years ago, he also did several residency programs, including in France and Myanmar.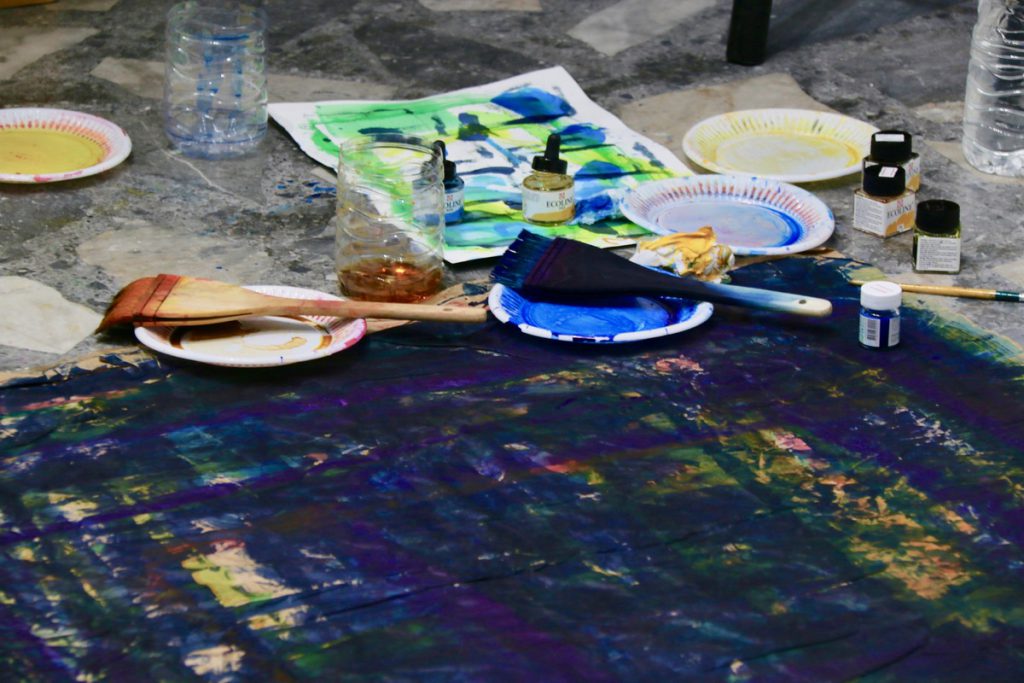 "The main reason I like doing residency in different countries is because I get to find new inspirations from other cultures and do research about my own identity. At the same time, people in those places also get to learn something from me, I hope."
Although being an artist in residence is a dream for many people who want to find new inspirations, artists will in fact be required to live a simple life and always adjust themselves. They also need to be open to new cultures and differences. For almost a year that Huissen lived in Thailand, he became an expert on public transport, got to enjoy Thai food (he ate very spicy food as well as stinky bean and fermented fish) and learned about Thai culture and beliefs that he used as inspiration for his exhibition "Fragments". For this series, Huissen was inspired by the Thai tradition of associating specific colors with different days of the week and used his own body as a tool to paint.
"What I've learned during my time in Thailand is that if you're a teacher or an artist, people give you respect. They respect your career, like they do in France, based on my experience. There, art is a profession and part of their culture. Many artists in the past, such as Monet and Picasso, have continued to have influence on the work of today's generation. Meanwhile, in Myanmar, art isn't a profession people give much credit. This isn't much different from the Netherlands, where artists are labeled as drifters, while the truth is we're not lazy at all. We work hard and can be seen as mirrors. We reflect on the world and express our inner feelings through making art. Artists are exceptional and important. We create art and earn a living. At the same time, art is considered something to be kept at a museum or in the collection of a millionaire, not something for the public. I hope this will change and that people will realize that art is for everyone to experience."
Huissen himself is a product of different cultures: Dutch, Indonesian, German, and Chinese. He was also raised to be free, open and follow his dreams. That's why he became determined to be an artist at a young age. Even though art isn't his only profession, being an artist is always his first answer when asked what he does. Apart from creating his own art, he also teaches conceptual art at different universities and works for galleries, institutions and museums, such as the Witte de With Centre for Contemporary Art and TENT in Rotterdam, and collaborates with other artists.
Today, Huissen is still working at the CORSAGE-STUDIO in Rotterdam, the Netherlands, together with video artist Robert Stroomberg. The studio won a July Prize at "The Future of Fashion is Now", an exhibition at the Boijmans van Beuningen Museum, with its HAT-DRESSES project. For this fashion and art project, sisal fibers from the Hubkapong Center in Petchaburi Province, Thailand, was used to design dresses with a unique concept: enlarging a hat to such proportions that it evolves into a dress. This challenged the artist to reimagine a hat and explore new possibilities of what this accessory can become and new forms it can take.
Next year, the artist has made plans to have an exhibition in Korea and China and may find an opportunity to visit Thailand again. He still enjoys being an artist in residence, particularly in Asia where he feels like it's another home that always gives him a warm welcome.
"Personally, I'm lucky to have a art gallery representing me in the Netherlands. That's why I can continue to do what I love," Huissen added. "Also, I'd love to have an art gallery in Thailand to represent my work. Thailand has always had a special place in my heart, especially Bangkok. To be represented here feels logical and natural to me, because many of my artworks were born and made here. It is home. It would be a real honor if my artworks can be seen and experienced by people in the country where it was born. This is where my art will be experienced the best."
For more of his work, please visit rabinhuissen.blogspot.com. You can contact him directly at huissenrabin@hotmail.com or his publicist in Thailand, Kullaya Kassakul, by email at yim@fyibangkok.com or by phone at 096 449 9516.
Writer | For almost ten years, Anya worked for the Thai edition of an international women's magazine as its lifestyle editor. When new realities in the media landscape forced the magazine to close down, she decided to become a full-time freelance writer. This goes well with her great passion for travel; she lists "traveler" as one of her jobs.
Latest posts by Anya Charuburana (On)
(see all)
Translator | In his previous life, Siriwat Pokrajen was an art journalist and a PR at The Art Center of Chulalongkorn University. Today, he is Documentation Officer at SEAMEO SPAFA, an intergovernmental organization working in the field of cultural heritage, and a Regional Representative of the Mekong Cultural Hub.
Latest posts by Siriwat Pokrajen (Yo)
(see all)
Photographer | Mark Brants is a multi-talented photographer and video maker based in Rotterdam, the Netherlands. His work translates the style of an artist into commercial and artistic photography. His main goal is to connect the artist with her/his art. For more of his work, www.markbrants.nl
Latest posts by Mark Brants
(see all)
Anya Charuburana (On)
Writer | For almost ten years, Anya worked for the Thai edition of an international women's magazine as its lifestyle editor. When new realities in the media landscape forced the magazine to close down, she decided to become a full-time freelance writer. This goes well with her great passion for travel; she lists "traveler" as one of her jobs.