LET YOUR DREAMS FLOW WITH SALA HOSPITALITY GROUP'S LUXURIOUS CRUISE PACKAGES IN BANGKOK
For the first time in Asia, a partnership with True Leasing lets guests enjoy private tours aboard a classic handcrafted mahogany boat, an exclusive five-course dinner, and suite stays at sala rattanakosin Bangkok
BANGKOK, THAILAND: SALA Hospitality Group is inviting guests to enjoy an unforgettable afternoon or evening on Bangkok's "River of Kings", with a new series of private boat sunset cruises on a timeless classic boat, and dining experiences that add an extra dimension to urban escapes in the Thai capital.

The Thai beach resort and boutique hotel specialist has formed a new partnership with True Leasing to create a series of packages that combine delectable dining at sala rattanakosin Bangkok's riverfront restaurant with private sightseeing trips along the Chao Phraya River. Passengers can step aboard a classic mahogany Hacker-Craft boat and glide gracefully along this historical waterway, past many of the city's most enchanting attractions, such as the Grand Palace, Wat Pho and Wat Arun. These landmarks look even more spectacular at sunset, as the orange sky shines on the glittering temples and reflects in the rippling water.

Escorted by a highly-skilled boat captain, all boats offer seating for up to five guests – ideal for couples, families and groups of friends. To celebrate the new partnership, SALA Hospitality Group has curated two special packages that combine serene cruises with the option of luxurious overnight stays and a dedicated five-course menu crafted by the expert chefs at sala rattanakosin Bangkok's Eatery and Bar.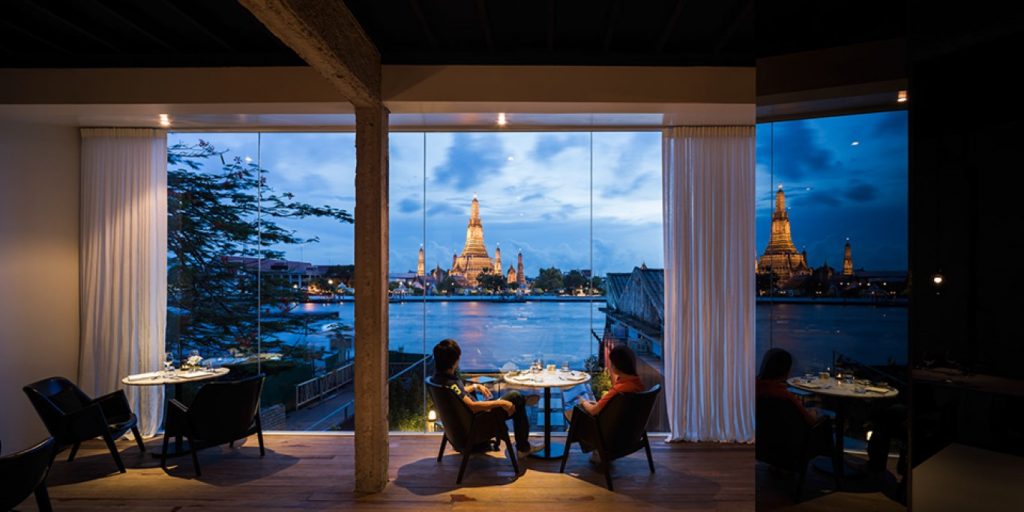 fine-dining menu treats diners to a selection of freshly-baked artisan breads, an amuse bouche of coconut gelato with heirloom tomatoes, basil pesto and freshly-cracked blacked pepper, and an indulgent starter of seared foie gras with passion fruit coulis, a Hokkaido scallop chip and mixed berry compote.

The entrée of Chilean sea bass with roasted cauliflower purée and Parmentier potatoes, topped with a grilled tiger prawn, is then followed by a mouth-watering main course of Black Angus beef tenderloin with garlic-infused creamed potato, roasted organic vegetables and buttered mushrooms, laced with a royal huntsman jus. The exquisite feast reaches its climax with a decadent dessert of crème brûlée tart topped with fresh mixed berries, savoiardi biscuit and banana scented mascarpone.
Couples can enjoy this sumptuous lunch or dinner for two, along with a private 30-minute Chao Phraya classic boat cruise for just THB 9,100++ (down from the standard rate of THB 12,900++). Alternatively, guests can combine their memorable meal and a 30-minute cruise with an overnight stay in a stylish and spacious wat arun river view suite, including breakfast for two the following morning for only THB 16,999++ (reduced from the standard rate of THB 24,400++).
Guests can rest assured that every element of their stay, cruise and dining experience is supported by the highest standards of health and hygiene. All seven of SALA Hospitality Group's hotels and resorts, including sala rattanakosin Bangkok, have introduced the SALA Safe programme, a series of best practices to ensure the safety and wellbeing of customers. This list of measures is now available on the group's website and will be provided upon arrival.

For more information about SALA Hospitality Group, please visit www.salahospitality.com.
editorial staff : pr.fyibangkok@gmail.com mobile 096 449 9516
Editor | Kullaya Kassakul is a seasoned public relations professional with over 20-year experience, a true cat slave, an aficionado of vintage items of all kinds, a foodie and the owner of the brand g.a.s (gear ⋅acquisition ⋅syndrome), a clothing line that wants women to have fun dressing up and having their own style.

She's also a co-founder of Thailand Closet, located on the first floor of the Bangkok Art and Culture Center.

Oftentimes, she speaks on public relations and marketing communications at educational institutions and other organizations.

Apart from work, she likes to widen her perspective and update herself on trends so that she'll have fresh new ideas for her work.
Latest posts by Kullaya Kassakul
(see all)